The HR landscape and the way we manage people are transforming. In this blog, we will be pinning down human resource management challenges and solutions. Managers are asking themselves with the digital transformation taking place in organizations, workplace cultural shifts, and employees now expecting more from their companies:
Are people even engaged, or do they think our team-building exercises are not worth it?
How do we solve human resource management challenges and solutions? Should we try getting new software?
Is Artificial Intelligence (AI) going to steal everyone's jobs anyway?
Are you feeling lost?
What Is Human Resource Management?
Human Resource Management (HRM) involves building the right roles and opportunities, ensuring continual training and development, planning for workforce recruitment, fostering robust performance management, and providing attractive compensation structures and benefits. As well as keeping updated with legislation and legal compliances, and offering protection against economic instability.
Also read: The Role of Human Resource Management in Data Protection
HR Statistics Every HR Professional Should be Aware of
Here are some insightful HR statistics to facilitate HR and non-HR professionals to make the correct decisions for your employees and your company.
Human Resource Challenges and Solutions
HR employees from every industry often encounter fluctuations in the global economy. It can impact every business aspect inversely, which might also involve meeting much more strategic organizational disputes, which the HR vertical has never come across in the past.
A survey by Glassdoor reveals that organizations investing in a strong candidate experience have the potential to augment the overall quality of their new hires by up to 70%.
After all, investing in strong candidate exposure isn't an impossible feat to accomplish!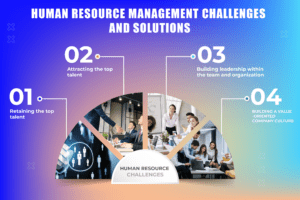 Even though the challenges faced by your team might seem bigger, the solutions which the companies can take up are quite easy when put into action. The major impact should be on employee engagement and interaction, communication, flexibility, leadership, and diversity, summed up by various micro factors.
1. Retaining All the Top Talents
The majority of companies are believing that recruitment is a mega challenge. However, retaining high-performing employees can help in increasing the morale of the entire team.
This can go a long way as compared to organic recruitment. Nonetheless, it can get difficult to identify top talents in the company without proper data or tools.
Solution: Not only will employee retention decrease the requirement to fetch new talent, but it will also give you with the materials to highlight your in-house team to better leadership positions.
Don't just focus on those with the higher-order profile. From the secretary to the manager, you need to treat everyone equally, motivate them to grow as a person, and retain them.
2. Attracting Top Talent
Major reasons such as business reputation and company culture have obstructed HR culture, with digital and mobile culture failing to make corporate loyalty while aiding companies retain their staff.
Solution: With the best HR software and tools in the market, you can attract the right talent. This can also take place when you are publicizing professional development opportunities and company-sponsored virtual events. There are several websites available to find the right fit for the role—leverage all these resources to hire efficiently.
3. Building Leadership Within the Team
Lack of guidance and leadership in a workplace can be a roadblock to even the smartest of employees. They tend to lose motivation and limit themselves to finishing their tasks on time and not taking up any additional tasks and responsibilities.
Solution: While the HR team might find it challenging to gain and retain talent, the best way to identify them is by developing leadership from the root of the company. Leadership is often created by presenting them to your team members.
You can take cross-training, educational offers, and certification programs, and provide employees with the chance to take up specialized projects.
4. Creating a Value-Oriented Company Culture
Your company culture would be playing an imperative role in every business aspect. Millennials are searching for a healthy company culture even more than salary and benefits. When you are not able to understand these major core points, you risking to lose your talents.
Solution: Companies such as Pinterest and Google are built upon strongly-held company culture. When you empower your employees with credibility, recognition, power, and incentives, you are enabling them to grow in real-time.
Encouraging your employees to work on what interests them apart from what they have stated in their job description, except for the hobbies section.
Also read: Top Technology Trends That Redefine Human Resource Management
Conclusion
Since employees are the face of an organization, its most robust ambassadors, it is HR's responsibility to make sure employee experience and satisfaction as well as professional alignment and progress. It is thus with time organizations identify that their strength lies in human resources. And thus, proactively taking steps in the correct direction.
We are here to help you with your project requirements. Get in touch with us at support@aeologic.com
FAQs
How can we improve HR?
As your next step to build better HR processes, run monthly surveys within the organization to know the human resource management challenges and solutions. As well as the requirements of your employees. Using it as an opportunity to directly connect with your employees and offer solutions to their challenges and requirements.
What is making the HR function successful?
Human resource management challenges and solutions are numerous. Human resource is successful when the company has a culture focused on inclusion, diversity, equity, employee wellbeing, employee engagement, and career development. HR is also successful when employees feel a sense of belonging and present their commitment to helping the company achieve its business goals.