As we enter into 2022, where the global pandemic has not taken a step back, has brought drastic changes in the world of the retail industry. There have been several digital transformations in retail since the onset of covid 19 pandemic. Retailers are much more engaged than before, online. They are required to complete orders and refill stock at an ever-increasing rapid pace. Also, they need to decrease the amount of wastage and revenue caused by the returns. If we talk about the world of bricks 'n' mortar, high streets, and malls, offline, the challenges are poles apart compared to online. Retailers have to face a reduction in footfall. As well as they also need to be in the market with global e-tailers on price and convenience.
An excellent customer experience is imperative to the success of any retailer. However, only 35 percent of companies undergoing digital transformations have studied customer evolution as an outcome of technology's influence on their shopping behaviors. That too, is down from 56 percent the year before, according to Solis's research. However, if companies remember their customers, then technology will facilitate keeping the doors open. "It's really about, in several cases, overlaying the digital over the real physical — trying to digitize more of the physical experience to connect with the customer more effectively," as per Robert Hetu, research director of Gartner's Retail Industry Services team.
The 4 Pillars of Digital Transformation
Digital transformation in retail is possible only when retailers are understanding the four supports: Customer engagement, employee empowerment, optimizing operations, and reimagining your product.
1. Customer Engagement
Customer engagement is at the heart of every aspect of the retail industry. And businesses are depending upon a satisfied customer base to increase their bottom line.
Furthermore, technological advancements like mobile computing and data analytics are making it easier for retailers to communicate with and know customers better than ever before.
You can consider your business and your customer relationship to the next level with a customer relationship (CRM) system. CRMs are designed for analyzing customer data and providing in-depth insight into customer demographics based on behavior and preferences. You can then incorporate the insights generated by the CRM for developing more strategic, targeted marketing and selling campaigns in the interest of building a higher quality, more personalized customer experience.
2. Employee Empowerment
Subsequently, digital transformation in retail also considers the importance of employee empowerment. Employee empowerment in digital transformation in retail is all about instilling your employees with confidence by equipping them with the skills, knowledge, and tools necessary to do their jobs well. In addition to giving insight into customer demographics and behavior. A CRM will help in enabling employees to access a wealth of detailed customer information, which they can incorporate to upsell, make well and informed customer recommendations, and more. All with the help of a single and easy-to-use management interface.
3. Optimize Operations
The third pillar of digital transformation in retail is optimizing operations.  It enables emphasizing quick, data-driven decision-making, streamlined workflows, and higher operational visibility across channels. Once again, integration is supreme. In the era of eCommerce, organizations operating on a multi-channel are playing the field. In order for your business to offer the seamless omnichannel experience customers expect, you need to consider operational consistency.
For highlighting integration, start by using an ERP system. ERP systems help in breaking down the barriers between applications to offer a more holistic view of cross-channel operations, including customer transactions, inventory, purchases and returns, customer service, and much more.
4. Reimagine Your Products
Last but not the least, digital transformation in retail takes in reimagining your products and services. For keeping up with the pace of innovation, you need to actively keep an eye out for ways. In order to incorporate the latest advancements into your offerings. The process is simpler than it sounds and, like the other three pillars of digital transformation in retail. Therefore, it is simply requiring the right software, tools, and of course, 'the knowledge'.
Prioritizing software and systems that feature predictive analytics to attain the highest ROI. Certain systems combine insights received through ERP, CRM, and BI. Moreover, with machine learning detecting potential failures before they can occur and automatically taking preventative or reparative measures. And also, leveraging digital intelligence for identifying new revenue sources and growth opportunities.
Top 10 Technologies Digital Transformation In Retail
It is evident that customers still desire in-person marketing, especially if it can be improved with technology to develop new experiences. As well as it should also complement the comfort feature of online retail.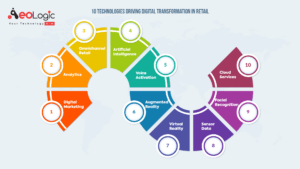 Developing hybrid shopping practices such as "buy online pick up in-store" and creating omnichannel experiences is now in trend. So here is a list of the 10 digital transformations in retail:
1. Digital Marketing
Digital marketing has become a necessity for retailers as a way of connecting with customers as the buyers are glued to internet-enabled devices. Whether it is emails, virtual storytelling, digital coupons, or ads, organizations are leveling up their digital marketing competition.
2. Analytics
Having information like demographics and customer engagement enables the organization to implement decisions based on customer data. Analytics will also provide customers with a personalized experience.
3. Omnichannel Retail
A multichannel tactic for shopping is known as Omnichannel retail. It is another leading digital transformation in retail. Its goal is to enhance the buyer experience across online platforms and in-store. For example, Walmart enables its customers to order items via text message to augment customers' comfort levels.
Omni-channel commerce has the leverage of hooking the psyche of a customer, reminding them again and again that they need to purchase a specific product. Until it has been translated into a conversion. At the heart of eCommerce and Omni-channel commerce, is a profound philosophy for customer engagement that is personalized and targeted.
4. Artificial Intelligence (AI)
Customers expect answers and assistance any day, at any time – and the easier, more convenient it is, the better. Artificial intelligence (AI) is an important new way to deliver the attentive 24/7 service that shoppers now expect.
AI is modifying and automating the buying process hence making it simpler for buyers. AI is developing cashier-less stores which is one of the crucial moves. For example, Amazon Go in Seattle is a fully-automated grocery store. It has eliminated checkout queues and cashiers at the till.
Moreover, Chatbots are a cost-effective solution as well as a rapid response service tool that is helping to seal conversions. In addition, it is also creating new sales. Furthermore, chatbots are helping in delivering messages that are consistent with the brand's voice – the chatbot says what it is programmed to say. Therefore, there's no need to worry that a chatbot will share something it is not supposed to, or that it will be rude and impatient with a customer's questions. Chatbots are considered one of the top most choices for digital transformation in retail.
Also read: Futuristic Technology Advancements in the Retail Industry
5. Voice Activation
Voice activation by AI is one of the leading digital transformations in retail. It has become a trend. Whether asking Google Home/ Siri to order or search items online, it has gained popularity in the retail sector.
6. Augmented Reality (AR)
Buyers can virtually test products or try on clothes with the help of AR. Let's consider Sephora's mobile app, buyers can virtually try products by using filters on their pictures in real-time.
7. Virtual Reality (VR)
VR is useful in redesigning and visualizing stores. It is beneficial for testing different arrangements without having the need to physically rebuild the store. Hence it helps to transform a business.
8. Sensor Data
Sensor data is bringing revolution to the brick 'n' mortar retailers. Also, sensor data uses small beacon sensors in their stores. If Bluetooth is enabled, it connects to the buyer's mobile and the store app gets installed. With this app, retailers can study how long buyers were there in the store and their choices of items. It also offers personalized discounts based on the data gathered.
9. Facial Recognition
It is one of the greatest digital transformations in retail. Furthermore, it is aiding retailers in better understanding customer patterns and preferences.  It can prevent thefts, analyze customer demographics, and track where buyers gravitate in the store. Retailers can develop a layout of the store that is most productive for their buyers by tracking which section customers first visits.
10. Cloud Services
Orders, shipping details, stock availability, and inventory tracking are all stored in the cloud. With the utilization of cloud computing, businesses can process data at a higher pace and cut down the costs of software development.
Also read: Why the Retail Industry Requires Enhanced Cybersecurity Protection?
With a growing number of buyers exploring a wider range of buying options, there is a need for retailers to reimagine their existing models in order to stay in the game. Furthermore, internationally, the Covid-19 pandemic outbreak is accelerating the adoption of digital services and constructing new opportunities for retailers to elevate their game.
Nonetheless, starting on digital transformation for retailers is not always straightforward and as a business, you are going to face several challenges, as given below.
Top 10 Digital Transformation Challenges In Retail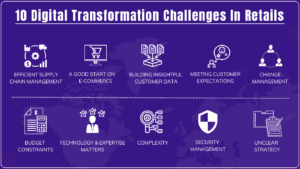 1.Efficient Supply Chain Management
For digital transformation in retail, efficient supply chain management can be considered one of the digital transformation challenges in retail. Growing customer expectations is implying a reduction in the delivery time is necessary. If these demands are not reliably met by the supply chain setup there is a risk of getting left behind the competition. Countries are facing the long-lasting effects of the pandemic supply chain disruptions in the form of product shortages, delays, and several challenges in warehouse maintenance.
2. A Good Start On E-Commerce
With e-commerce, retailers must get it correct in terms of building positive interactions with customers. Getting an interactive platform that is fast & safe with functional features, and search options, optimized across several devices including tabs and mobile phones. There are several e-commerce platforms available in the market that decrease the efforts required on the technical front, so there are no excuses for a bad website.
Yet, smaller retailers that are not ready to invest in creating platforms could get onto social selling or local e-commerce platforms, hence, social media marketing.
3. Building Insightful Customer Data
Capturing a huge amount of information is important. However, the more challenging part comes when it is time to state how to monitor, analyze and structure the acquired information from every interaction. Retailers require to end up with a meaningful database allowing them to effectively track trends and get in-depth insights. It facilitates both sellers and customers when their data is managed conveniently. On the other hand, incorrect data can mislead customers and negatively impact their experiences.
4. Meeting Customer Expectations
As e-commerce spikes and retailers are focusing on the omnichannel shopping experience, customers' expectations are also increasing higher. Gravy Analytics projected that 90% of today's consumers expect seamless and smooth interactions across all shopping channels, from in-store to websites to apps. This is where the omnichannel strategy can come, as consistency in customers' purchasing experiences is important in the age of digitalization.
5. Change Management
Digital transformation in retail can come hand in hand with resistance to change from the people and departments that are used to certain ways to manage their touchpoints.
Concerns over the change of roles & KPIs and doubts about the queries transformation programs might run into. Since digital transformation is cutting down the traditional approaches. Defining ownership and discovering new approaches to measuring ROIs has become a new task. Leaders should address these challenges in digital transformation in retail and break the status quo.
6. Budget Constraints
For several retail companies, digital transformation in retail ends with a mobile app or website. To build un-compromised customer experiences and to reap the advantages of digital transformation, retailers should look at a comprehensive implementation that is featuring AI-powered bots, AR/VR options, headless commerce, interactive kiosks, mobile POS, etc. Proper allocation and planning of budgets are becoming imperative.
7. Technology & Expertise Matters
Technologies are playing a key role in a successful digital transformation in retail and the foundation is required to be robust.  Merging the right set of technologies with a proper understanding and risk evaluation techniques is one of the biggest challenges. Furthermore, analyzing available options and picking the right infrastructure and technologies that provides value, will remain the key.
8. Complexity
A majority of people are familiar with conventional technology and digital platforms such as social media and mobile shopping apps, however, that doesn't mean they are having the potential of digitizing all aspects of their businesses with simplicity. Digital transformation is requiring a mixed skill set that those with little to no expertise can't properly manage.
9. Security Management
The necessity to quickly upgrade and expand digital infrastructures comes with huge concerns about cybersecurity. Specifically for the retail industry, which involves selling and purchasing in every single transaction. Thereby, making the platforms vulnerable and exposed to risks of information getting stolen. This would be a great setback for retail businesses that are putting effort into building a safe and secure service made to help in the easy management of their business.
10. Unclear Strategy
For accomplishing proper digital transformation in retail, you require a well-defined strategy with clear objectives, vision, and goals. It has a lot to do with proper management and planning by organizational management. Furthermore, the inputs have to be taken from each and every one for a unified understanding from different touchpoints.
Conclusion
Above were the 10 technologies leading digital transformation in retail. Technology advancements are transforming the path of every industry's method of running the business. It is helping by creating efficiencies, saving money, and providing better quality products and services. Retail businesses have also adopted technologies to their advantage.  A good buyer experience is crucial to the success of any retail business. All these technologies augment the customer's experience and enhance the productivity of the business.
If you want to know further about the technological trends and want to implement them, then kindly connect with us at Aeologic Technologies.
FAQs
What are the leading digital transformations in the retail sector?
Digital transformation in retails has kept the brick 'n' mortar store alive as well as it has enhanced the online experience. Technologies such as Augmented Reality (AR), Face Recognition, Voice Activation, Artificial Intelligence (AI), and Analytics are the few digital transformations in the retail industry.
Will digital transformation reshape the future of retail?
In the last 2 years, the retail sector was heavily impacted. Considering the pandemic and technological advancements, most retail businesses are navigating the volatile market successfully as compared to others with the help of technological trends. They have implemented technologies like virtual reality, omnichannel retail, cloud services, and sensor data in their businesses.