Industry 4.0 is a term surrounding a promise of the innovative industrial revolution – that married advanced techniques with the IoT (Internet of Things). The idea is to build new and interconnected manufacturing systems that can use information, communicate, and analyze data to drive intelligent actions in this real world. Therefore, it is also known as Industrial Revolution 4.0. However, there are certain challenges and opportunities for SMEs in industry 4.0. Growing industrial internet adoption globally in the manufacturing units, better focus on enhancing the efficiency of systems and machinery. As well as decreasing production costs are important factors responsible for the growth of this market globally.
Also read: How Industry 4.0 is Revolutionising the Chemical Industry?
What is Industry 4.0?
Industry 4.0 is described as the name for the latest trends of automation and data exchange in manufacturing technologies, such as the Internet of Things, cyber-physical systems, cloud computing, cognitive computing, and building intelligent factories.


It is the revolutionary digital transformation of production for SMEs and other relevant industries and processes that are creating value. Its characteristics include:
More automation as compared to the third revolution
Building gaps between the digital and physical world through cyber-physical systems introduced by IIoT
A considerable shift from central industrial control to a place where the current intelligent products define the steps of production
Data models and closed-loop control systems
Product customization/personalization
Opportunities of Industry 4.0
Industrial revolution 4.0 spans an entire lifecycle of a product and its supply chain. It is involving inventory, designs, sales, quality, engineering, scheduling, field service, and customer service. Everyone wants up-to-date, informed, and related views of their business processes and production.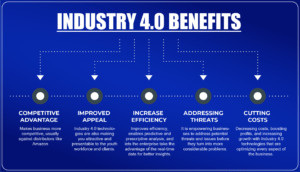 Following is a non-exhaustive list stating the major benefits of Industry 4.0 in the modern business model:
There are several challenges and opportunities for SMEs. However, industry revolution 4.0 could make your business more competitive, usually against disruptors such as Amazon. Companies like Amazon are optimizing supply chains and logistics continuously. Hence, one ought to invest in technology or solution. It is helping you optimize and improve operations. Your business must have the processes and systems to make sure you can offer better services to customers and stay competitive.
Industry 4.0 technologies are also making you attractive and presentable to the youth workforce. Companies investing in contemporary and innovative Industry revolution 4.0 are better positioned to appeal to and retain workers. With this, you can have a stronger team by improving collaboration.
Companies investing in these solutions will be increasing efficiency, enable prescriptive and predictive analysis, and let people like executives, operators, and managers leverage real-time data and intelligent insights for decision-making while managing their day-to-day responsibilities.
It is empowering businesses to address potential threats and issues before they turn into more considerable problems. Real-time data, automation, predictive analytics, and internet-enabled machinery can make your business more proactive in addressing potential issues with the supply chain industry and maintenance.
Lastly, you can decrease costs, increase profit, and boost growth with Industry 4.0 technologies. It is helping you in optimize and manage various aspects of the manufacturing process, supply chain, etc., and boosts the bottom line and efficiency of the entire operation.
Also Read: The Role of Industry 4.0 in Modern Manufacturing
Industry 4.0 Challenges
Anything that is coming with a lot of benefits also has a few challenges. Industry 4.0 challenges involve using new technology or process in the organization.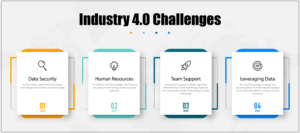 Apart from this, there are some other real-time challenges, such as:
Data Security: The first challenge is for ensuring data security. There is a continuous threat of cybercrime for several businesses regarding customer data. Switching to the cloud implies moving out of their comfort zone. Which is making them vulnerable. Data security is the major concern of cloud-based technologies and Industrial 4.0 technologies.
Trained Human Resources: To adopt new technology, the frontline executives require training. Investing in new technology like Industry 4.0 doesn't show that you should depend on IT management to maintain systems. Rather than that, you can benefit from the frequent workforce training and persistent guidance that the service provider conducts.
Team Support: Having team support is highly important when moving to new technology. However, the new model may be challenging to accept and adopt. You should set clear expectations, state the purpose and the advantages of this investment, and be transparent with the team throughout entire the implementation process.
Leveraging Data: Another Industry 4.0 challenge is to leverage information and make informed decisions. You need knowledge, training, and documentation for understanding the pattern to use data and enhance, change, or grow a business.
Also read: Role of Private 5G Networks in Industry 4.0
Conclusion
In this article, we have discussed the challenges and opportunities for SMEs in Industry 4.0. For building one of the most scalable and sustainable business environments, you must use tools for streamlining tasks, collaborating, boosting productivity, and leveraging real-time data. Industry 4.0 solutions can be increasingly effective for your business to get on the right track and leverage the ever-increasing clout of emerging technologies.
Get in touch with us!
FAQs
What are the challenges in India for Industry 4.0?
High cost of scaling.
Lack of resources/knowledge to scale.
Lack of data analytics skills in-house.
What is the impact of Industry 4.0 on SMEs?
We could start by stating that industry 4.0 is allowing faster responses to customer needs and improves the speed, flexibility, productivity, and quality of production processes. This emerging technology is laying the foundation for the adoption of new business models, production processes, and other innovations.