By the end of the year 2023 almost half of the software services used by the businesses would be hosted on the cloud. Cloud computing is an effective way of storing data, the cloud is essentially the evolution of the data centre. For businesses offering to deliver a unique, secure and performance-centric experience. AeoLogic Technologies Pvt. Ltd. offers multiple clouds hosting a portfolio of solutions. Cloud computing will be designed to enable you throughout your cloud adoption journey.
What is Cloud Computing?
The term "Cloud" refers to the database or the server that is accessed over the internet. In a simple term, it means accessing, storing and managing the data and applications on the centric remote server that are hosted on the internet instead of the computer's hard drive.
It may be hard for a business to maintain its own set-ups as it may be a costly approach. However, with multiple subscriptions offers instead of buying, owning and maintaining physical data centres and server you can access data and the services as needed from a cloud provider.
Benefits of Cloud computing To Your Business:
Cloud computing offers several benefits over the traditional way of doing business. Few benefits are as follows –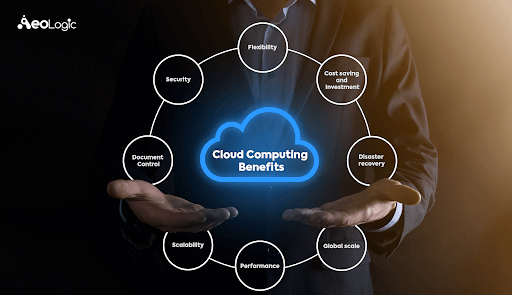 1. Flexibility-
In the recent era, many businesses are realizing how Cloud Computing is so beneficial to be applied to the work environment of today. Even in a recent survey, it was found that 42% of them think that flexible work is the upmost factor why they use Cloud Computing. It offers maximum flexibility to your employees in their day-to-day work practices. If you need access to have full control of your documents and data while you are off-site or anywhere in the world, you can interface with your virtual office, quickly and effortlessly.
2. Cost Saving & Investment-
One of the most remarkable benefits of Cloud Computing is savings a company's costs. You do not need to invest in the purchase of inventory such as system infrastructure and hard disk. You are only charged at a low cost compared to set-up a whole server, pay for a month agreed to service package with the Cloud Computing service provider. It has been proven that setting up cloud-based computing will not only eliminate high investments but also helps in ROI as you are paying specifically for your requirement.
3. Disaster Recovery-
Every business should be investing in disaster recovery, but for small-scale businesses which lack the budget and skills, this is often more an ideal than the reality. Cloud is extensively helping more businesses to avoid that pattern. According to a study, small-scale industries are twice as likely as bigger industries to have implemented cloud-based backup and recovery solutions that save time.
4. Global Scale-
The benefits of cloud computing services have the ability to scale up drastically. Delivering the right number of resources at right time for example range required for computing power, amount of storage, bandwidth right when it is actually needed and from the right geographical region.
5. Performance-
The high-performance cloud computing services run on a worldwide network of secure data centres which are upgraded to the latest generation of fast cloud computing, this offers multiple benefits over a traditional way of doing businesses.
6. Scalability-
One of the major benefits of cloud computing is its scalability. Cloud-based services are proven to be ideal for organizations with growing or fluctuating bandwidth demands. Your business can scale up or scale down to operation and the resource storage which needs for your business that may need a quick adjustment to suit such variations, allowing flexibility as the needs change. If the needs extend, it's easy to upgrade with your Cloud capacity. Similarly, if you need to demote your data size again, the flexibility is baked into the service. It's an easier and complete system.
7. Document Control-
The representatives and vendors work together on cloud computing, the greater the need the fastened document control. The traditional way of businesses where employees had to send files back and forth as an email attachment to be worked on. At some point, you will end up with a mess of file content, formats and titles.
8. Security-
Almost all organisations have security concerns when it comes to adopting a cloud-computing solution. After all, when programs, data and files aren't kept securely onsite, how any businessman can know that they are being protected? If you can remotely access your required data, then what is stopping a cybercriminal from doing the same thing? Well, quite a bit, actually.
Cloud computing offers an abroad set of technologies, controls and policies that strengthen your security overall. Ultimately, cloud computing protects your data, apps and infrastructure from potential threats.