Remote Patient Monitoring System is one of the most amazing things to happen to the Healthcare vertical. This emerging technology is continuing to gain a lot of attention and appreciation. Moreover, it is very encouraging as it promises to be a game-changer in the Healthcare sector. Therefore, before we get into its positive impact on the healthcare industry, let us understand more about it.
Also read: Digital Transformation Examples in Healthcare
How Remote Patient Monitoring System Works?
The introduction of a Remote Patient Monitoring System can certainly ease the burden on both service providers and patients. And help in giving them greater scope for managing their health more economically.
The Remote Patient Monitoring System replaces the old-fashioned clinical setting by using advanced technology. Whereas, crucial information about a patient that includes blood sugar, heart rate, blood pressure, and oxygen levels can now be sought from the patient regularly. The data received is then immediately transmitted to the laboratory for further examination.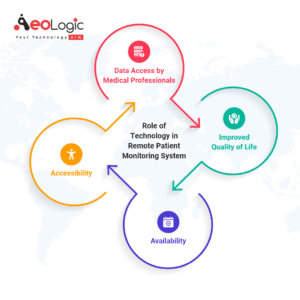 On the other hand, a remote patient monitoring system can help in preventing life-threatening injuries for senior citizens. As well as the elderly with the help of wearable devices. Thus, it can act as an effective and dependable source for managing patients who suffer from chronic illness.
The Emergence of Wearable and Mobile Devices
Wearable and Mobile Devices are taking the Remote Patient Monitoring system to a different level. Also, they can gather health-related data from the patient that includes:
Physiological and Health data,
Activity and Sleep data, using advanced analytics.
Wearable Devices are connected to smartphone applications. Furthermore, it can aid in transmitting patients' important information to laboratories for analysis.
A few of the wearable devices which are obtaining popularity include:
Wearable Fitness Tracker
Wearable ECG Monitor
Smart health watch
Wearable Blood Pressure Monitor
Wearable – Biosensors
Benefits of Remote Patient Monitoring System
Following are some of the notable benefits of using Remote Patient Monitoring Systems for patients and healthcare providers.
For Healthcare Providers
Decrease in operational costs
Improving management of patients with chronic illness
Lesser pressure on the healthcare industry
Improving patient outcome
Doctors having their clinics can leverage more.
For Patients
Patients residing in remote areas can have better access and availability to high-quality healthcare.
Patients requiring emergency consultation with specialists can leverage from Remote Patient Monitoring System.
Easy access to personal health data
Reducing stress due to less travel
Accessibility and time-saving
Future Trends for Remote Patient Monitoring Technology
The covid-19 pandemic is stressing the global healthcare system. This is where the Remote Patient Monitoring is succeeding in attracting the attention of service providers and patients. Mobile Healthcare Apps and Wearable devices are helping as a boon to patients. Moreover, this increasing trend will be educating and influencing providers, insurers, and consumers. Thereby, Remote Patient Monitoring Systems will be ensuring that a patient stays connected with their Healthcare provider regularly.
Also read: Information Technology Solutions for Healthcare
Wrapping Up
The healthcare system has come a long way. The introduction of the Remote Patient Monitoring System is considerably reducing physical visits by patients to doctors. A good Remote Monitoring App is able to track your patient's health using smart devices for monitoring the patient's vital parameters. The application can also check for view reports, symptoms, and digital imaging for providing virtual assistance. Therefore, the implementation of technology will help in closing down the gap between the rural sector and high-quality healthcare to a greater extent.
To know more about the technologies used in Remote Patient Monitoring, please connect with us at support@aeologic.com.
FAQs
Remote patient monitoring uses what technology?
RPM refers to the particular technology used to electronically transmit data between patients and physicians. And also, it is just one delivery system within the broader telehealth sector.
What are the advantages of remote monitoring technologies?
The major benefits of remote monitoring technology include improved access to care, operational efficiency, cost savings, higher quality of care, and medical staff support. Subsequently, the future of remote care will center around making patient engagement solutions more immersive.