Managing personnel and materials are critical for companies that manufacture chemicals. You need to have systems in place that augment productivity. And ensuring your workers are safe according to regulatory requirements from a variety of hazards. And as the company is growing, those challenges grow with it, so you'll need the best enterprise resource planning (ERP) solution for chemical manufacturing to help you. Here, we'll talk about ERP solutions for chemical manufacturing.
Also read: Role of ERP Software in Manufacturing Industry
What Is an ERP?
An ERP is software which is helping organizations run every aspect of their operations, from accounting to project management to supply chain operations.
An ERP suite is a complete solution for businesses looking for ERP solutions for chemical manufacturing to run more efficiently.
Why Businesses are Using ERP Solutions for Chemical Manufacturing?
Today, ERP systems are crucial in the business world. And companies are using it globally for focusing on smart growth and improving the overall efficiency of their operations. As well as offering a consistent experience for their employees.
ERP solutions for chemical manufacturing are modernizing their operations and uniting all aspects of the workforce. Ranging from manufacturing to sales to regulatory compliance, onto one platform.
Because of the industry you're in, your ERP challenges are sole and unique. You'll be needing a solution that can integrate plant and management systems. Hence, eliminating bottlenecks, better-conducting warehouse management, and improving quality control. As well as conducting an analysis of potential hazards to keep workers safe and reduce injuries on the job.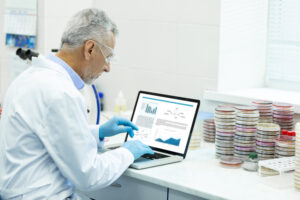 ERP Solutions for Chemical Manufacturing: Top Options
So what ERP solutions for chemical manufacturing are out there for your business? Here are the top three options that we would recommend for a chemical manufacturing company.
Tally.ERP 9
This software solution is offering features such as accounting and asset management. Moreover, you can also generate reports, manage taxes, organize orders and purchases, and much more.
Pro: Tally.ERP 9 is well-rounded software with a dashboard that is indicating you your balance sheet and business ratios as soon as you log in, and it has lots of ways for you to optimize reports.
Con: This platform is completely web-based and meant for PCs, and as such, there is no iOS or Android option.
AlignBooks
AlignBooks is another huge option for the chemical industry, as long as you are looking for a cloud solution and are primarily concerned with handling the accounting and human resources side of the business. It bills itself as a one-stop solution for all of the requirements of your business. Furthermore, it can help in managing everything from accounting to billing to CRM to finances.
Pro: Alignbooks is powerful software that is automating and assisting with many of the fundamental aspects of your business.
Con: It is broader software not particularly tailored to the chemical manufacturing industry, so may not have all of the characteristics your company needs.
Oracle NetSuite ERP
This is the crème de la crème or ERP solutions for chemical manufacturers, and as such, it is the one that we are suggesting. This is strong, well-rounded software that is handling all of the nuances of chemical manufacturing, whether you are running a startup or a large enterprise.
Accounting, asset management, audit trail features, and much more are accessible with this software.
Pro: This is the best option for chemical manufacturers because it is including all of the features necessary to streamline operations and handle the nuances of this industry.
Cons: May be too powerful for some small-sized users, who just require a couple of different processes managed and may just need a simple HR tool.
Also read: Use ERP Solutions to Increase Efficiency and Productivity
Conclusion
Fortunately, you don't have to handle the installation, configuration, setup, and maintenance of your ERP solutions for chemical manufacturing on your own. That's what we do at Aeologic Technologies. You can leave all of the headaches to us: as soon as we start working with you, we'll take over all of the details so you can concentrate on other things.
Are you still not sure? Contact us today for a free consultation. We'll sit down with you to talk about the services we offer, and how we can help you to solve your organization's unique challenges.
FAQs
What is ERP in the chemical industry?
ERP is providing a comprehensive suite of services that is helping chemical companies maximize the value of their products. These services include product lifecycle management, supply chain management, quality management, and regulatory compliance.
How manufacturing industry is using ERP?
Decreasing redundancy and automating processes to increase efficiency.
Optimizing manufacturing operations for improved productivity.
Enhancing supply chain, transportation, warehouse, and inventory management.
Reducing risk and increasing confidence around compliance.