Most successful international expansion of any company is often predicated on technological capability along with organizational restructuring that facilitates innovativeness. The last century has witnessed a series of explosive innovations which has brought dramatic results. Healthcare has improved, work productivity has enhanced, and communications and content standards have skyrocketed. Virtually there is an improvement in every dynamic of quality living which is the greatest example of innovation in international business.
Innovation in international business– Innovation in the past two decades has been incremental, i.e. a slight variation on the existing product variations. Tech-based innovation incorporates technological developments to improvise customer experience and upscale benefits. Also, developing existing alternatives in the market, to create a strategic and positive impact on the country's economic and export front.
Areas Where India Has Progressed in Terms of Innovation in International Business?
According to Live Mint, India has jumped 5 places in the Global Innovation Index, in the past 5 years i.e. from 81 in 2014 to 52 in 2019. India has improved in its ranking in Knowledge and Technology outputs, Human Capital and Research, and Market Sophistication.
"Facilitating entrepreneurship through innovation is a critical component under our vision of new India by 2022. India's consistent rise at the global innovation index is a testimony of its people's entrepreneurial prowess"– Piyush Goyal (Commerce and Industry Minister)
India is steadily becoming the centre of global innovation. For example, India is both a competitor and a partner to the United States in the global marketplace. Let's have a look at the world's best dynamic cities first since that will better explain the present placement of India in International Business (innovation)–
Bangalore
Ho Chin Min City
Silicon Valley
Shanghai
Hyderabad
London
Austin
Hanoi
Boston
Nairobi
Bangalore was previously an outsourcing hub but has dramatically moved away from its past focus. The city now is embracing innovation and entrepreneurship, faster since Start-Up India movement by Mr Modi was launched. In the year 2018, around 158 startups were funded both under venture capitalists and Start-Up India movement. On the other hand, speaking about GuruGram, outside the list, the town that was previously an agricultural wasteland has now transformed into a city of skyscrapers. All thanks to DLF and Supertech for creating permanent addresses for Multi-National Corporations.
Investments and Innovations- This year budget opened gates for foreign investments, and since now there is substantial governmental support, India's investment ability will expand. With US-China trade-off, India is slowly becoming an attractive investment option by many public and private investors. India's primary tech opportunity lies in disruptive technologies like Blockchain, Artificial Intelligence, Virtual Reality, 5G, and Cybersecurity and other digital enterprises.
9 Other Empowering Technologies in India to Look Out for the Next Decade-
Cloud Technology
Digital Payments
Mobile Internet
Automation of Knowledge Work
IoT or Internet of Things
Intelligent Transportation and Distribution
Next-Gen Genomics
Renewable Energy
Advanced Energy Storage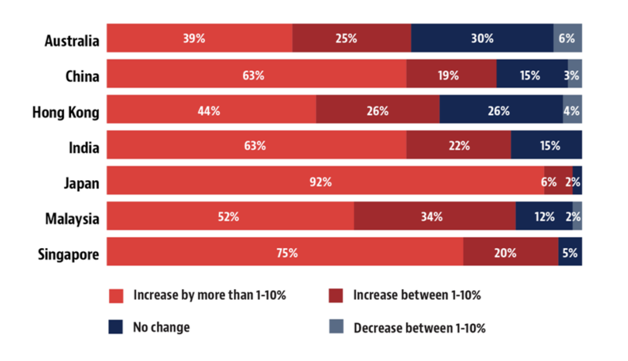 Image Courtesy- WeForum
 India's Future of Innovation in International Business
Innovation in Financial Services- 300 Million Indians by the year 2025 through the advancement in banking will have a raise in their income from 5 per cent to 30 per cent. This means better access to credit and enhanced ability to save more money.
Innovation in Healthcare– The advancement in disruptive technologies will transform public health by 2025 through digitally-enabled healthcare providers and remote health services. Improvement in technology will bring medical expertise to moderately skilled healthcare workers.
Innovation in Infrastructure-  Electronic tolling, smart highways systems, and other tracking technologies can readily increase the efficiency of warehouse and ports by at least 50 per cent, that too, by the year 2025.
Innovation in Government Services- E-governance plans has helped Indian Government, make lives of millions of people easy. AEOlogic has played a massive role in facilitating the e-challan and PMO application. The company continues to accelerate Government-run businesses to reach their maximum potential through its open-digital initiatives that collectively contribute to the economy.
For both private and public tech-investments, get in touch with our team.