Digital transformation in banking is not just an alteration; it is far beyond just moving from the conventional to a digital world. The whole concept of digital transformation strategy in banking is a crucial process of how banks and financial institutions are analyzing, interacting, and satisfying their customers.
The fundamental approach of digital transformation in banking and fintech is beginning with understanding customer behavior, preferences, and demands. As a result, the banking industry is transforming from product-centric to customer-centric.
Also read: Digital Transformation Examples for Business Success
The Change From Traditional to Digital Banking
Most banks started their digital banking journey years ago with a clear strategy, even though there were key challenges along the way. The trend of digital banking started when financial leaders understood a majority of their users are on digital channels.
With the top-down implementation of digital strategies, the banking industry is becoming more client-inclusive and tech-savvy. What does the evolving transformation from traditional to digital platforms look like? Let's have a look at the highlights of this journey.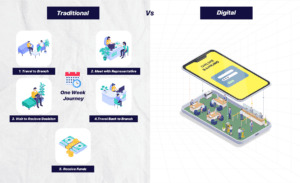 Particularly, as more customers are using their mobile applications and websites for performing transactions, omni-channel took hold in financial services. Therefore, mobile banking is becoming a crucial part of the digital banking journey.
For keeping up with the ever-changing market, traditional banks had to adapt to new technologies and operating models that could keep them in the circle throughout the entire customer's journey.
At the same time, the growth and increasing demand for Artificial Intelligence (AI), blockchain, and the Internet of Things (IoT) is accelerating the process of modernizing the banking industry.
As of now, the banks are highly relying on the omni-channel strategy, breaking data silos from every channel to modernize the customer experience.
Modern Banks Utilizing the Digital Technologies
When the concept of digital transformation in banking was initiated, the financial services and banks started by developing a detailed strategy to revamp their operating models. Therefore, enhancing customer offers and creating an end-to-end customer-centric process. For this process to succeed, the banking industry is embracing digital transformation technologies for generating value for both banks and their customers.
Following are some of the most used tools and technologies incorporated by the digital banking sector.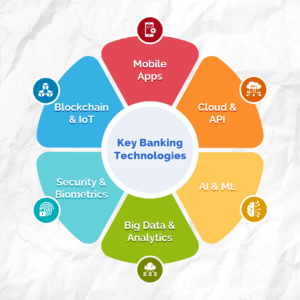 Artificial intelligence (AI) and Machine Learning (ML)
Digital transformation in banking is driven by AI and ML. It is leveraging online assistants and chatbots that are helping in resolving customer issues by providing necessary information. Along with this, artificial intelligence is incorporated for the purpose of data analysis and management, and data security. As well as for improving customer experience.  For example, AI helps in detecting repetitive patterns by analyzing consumer data within seconds.
Machine learning is another companion for banks that is having the potential to gather, store and compare user data in real time. One of the biggest advantages of incorporating Machine learning in the banking sector is fraud detection. It is easier to detect any alteration in the user action and take timely preventive measures with machine learning.
Internet of Things (IoT)
IoT is super useful with real-time data analysis. Hence, making the customer experience more personal and tailored. Besides, IoT is transforming the financial landscape by introducing risk management, authorization processes (biometric sensors), and access to multiple channels.
Blockchain
Every discussion on digital transformation in banking is incomplete without blockchain. The integration of blockchain in the financial industry is resulting in securing data transactions, and more accuracy. Furthermore, it is improving the interface. Modern customers strictly trust blockchain solutions and believe that it has making transactions and other banking operations more transparent and convenient. In fact, the combination of blockchain and IoT (BIoT) has been one of the biggest digital banking technology trends.
Cloud Computing and APIs
Another digital transformation example in banking is Cloud computing. It is by far the most popular technology used by the banking sector. A cloud-driven service is resulting in improving operations, better productivity, and instant delivery of products and services.
With the integration of the cloud, banks are now more open to incorporating banking APIs for highlighting data sharing and enhancing the overall experience.
Big data Analytics
Modern customers don't look at banks the same way they used to look years ago. All thanks to big data technology that is helping banks analyze customers' expenditures, monitor risk, and manage feedback to boost customer loyalty. Data analytics solutions are bringing new prospects for banking development and have been prompt in responding to increasing market demands.
The above technologies have transformed the banking landscape and brought considerable benefits to the financial domain. What are these benefits?
Digital Transformation Solutions You Can Leverage
By leveraging digital transformation solutions, you can get the value of a business. Enterprises that are adopting advanced digital technologies automatically gaining a competitive advantage in the market. Digital transformation in banking offers your business full control over end-to-end and backend operations, consistency, and usability.
What digital transformation solutions can you leverage for your business? Below are a few examples.
Mobile applications
Mobile apps are designed for helping businesses in all kinds of ways. With banking apps, one gets hold of financial data, bank accessibility, tailored options, and personal financial management. However, this is not just limited to the banking industry; any business application helping an enterprise to understand and serving its customers personally. This is probably why more than 82% of businesses with a digital presence have their own withstanding application using mobile app services.
Data Analytics Solutions
Deriving the highest value from the business data is the answer to success. If your business is dealing with massive amounts of data from multiple sources, data analytics solutions and services will be helping you in transforming your everyday data into valuable business insights.
Also read: Role of Digital Transformation in Manufacturing
Final Thoughts
Aeologic Technologies can be a reliable technical partner in the digital transformation of banking businesses. From designing a UX strategy to integrating current data solutions, we have the best professionals to serve their clients.
Get in touch with us for customized digital transformation services for your banking business.
FAQs
What are examples of digital transformation?
Examples of digital transformation are the following:
Transitioning into a remote-first workplace.
Using design thinking for analyzing and optimizing the customer journey.
Using automated customer service.
Implementing AI-driven insights for improving sales efficiency.
Automating employee performance management.
Why digital transformation in banks is important?
A digital transformation in banking solves the speed and innovation of the cloud from anywhere while addressing security, regulatory compliance, and resiliency requirements.