Digital transformation is implying the adoption of a digital-first mindset for improving business processes, streamlining operations, and driving greater customer and shareholder value. For several businesses, it can mean the difference between becoming the market leader or becoming obsolete. Let us discuss the digital transformation examples for business success.
8 Digital Transformation Examples for Business Success
Some digital transformation examples include incorporating tangible, customer-focused digital tools like mobile applications or websites that enhance the customer journey. Whereas others involve machine learning algorithms that transform a conventional business into a digital business.
Or digital transformation efforts can disassemble the silos between the virtual world and the real world. As a consequence, business leaders can understand how customers interact with each and every marketing campaign they run. Whether email marketing, in-store, digital advertising, TV, or the latest social media.
Think about banks changing from an in-person banking standard that is there for generations to ATMs and then to mobile banking.
Let us take another digital transformation example for business i.e., automated payroll software solutions that are making automated payments into employees' bank accounts. As well as keeping track of them for the purpose of filing taxes at the end of the year.
In communications, faxing used to be the standard.  Nowadays, it's virtually extinct. Faxing was first substituted by email and PDF files. At present, we have virtual documents with document lifecycle management solutions and secure electronic signatures.
Critics might be considering many of these transformations to be a part of transformation management. Nonetheless, they're also major parts of the new digital age. And they're all excellent examples of the innovative digital transformation strategy.
Let's take an in-depth look at some of the 8 best digital transformation examples in the following sections below. I'll explain how companies across major industries are achieving new growth through digital transformation. All by creating new business models with big data and digital savvy. Hence, welcoming the digital transformation.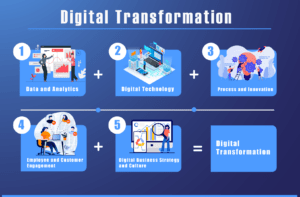 Digital Transformation Examples in Manufacturing
Many manufacturing companies are undergoing a digital transformation doing so for higher efficiency. They are using predictive analytics to reduce supply chain costs and maintenance needs. Also, decreasing energy and water consumption, etc. As a B2B industry, the major attraction for their clients is the capability to mitigate costs in all manners, and even to increase yield.
For instance, let us consider digital transformation in manufacturing. Desktop Metal is transforming the state of manufacturing with innovative digital technology for 3D printed metal. Automotive manufacturers are already deeply invested in this new technology. There are also applications across the medical, dental, aerospace, and even luxury markets, beyond automotive solutions.
Check out the examples of latest technologies used in manufacturing in the image given below.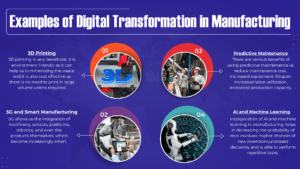 Also read: Role of Digital Transformation in Manufacturing
Digital Transformation Examples for Business in Banking
Another digital transformation examples for business are in the banking industry. The financial services revolution is involving much more than the shift to mobile banking and cash apps. Consumers are now using cash airdrops, cardless payments through services like Apple Pay on phones or watches, and entirely bankless banking.
However, that's the bare minimum for keeping up with the trending transformations in banking. Therefore, for earning loyalty and building a better customer experience, you should keep innovating.
For example, Capital One has revolutionized the banking industry. After acquiring the digital-centric ING Direct, Capital One launched an ambitious plan to transform itself into a digital innovation leader. Therefore, the software was placed at the core of the company. And today, it is a powerhouse of software with a technology staff of approximately 11,000. It is also having more than 500 artificial intelligence (AI) patents.
Whereas, J.P. Morgan just entered the metaverse, opening the OnyxLounge in Decentraland, which is a popular metaverse for the blockchain-centric world. Furthermore, the company is planning to operate like a bank in the virtual world much as it does in the real world.
Digital Transformation Examples in the Retail Sector
Retail businesses are struggling to meet customer expectations because of the massive push towards eCommerce in the market. Even Walmart has undergone a digital transformation to keep up with Amazon and other grocery stores turning to features like delivery services and online ordering.
Nonetheless, Walmart has taken it further than that to remain ahead. Their latest digital transformation success: voice ordering. Not only they are shifting to allow their customers to shop from the comfort zone of their homes or their jobs (or anywhere else). However, they can now do so using voice command devices like Google Home.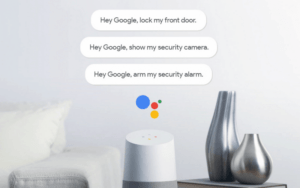 Furthermore, they're also adding a visual delivery service, offering customers updates on their deliveries. And enabling visual connectivity so you can observe them putting the order away in your kitchen.
Read more: 10 Technologies Leading Digital Transformation In Retail
Digital Transformation Examples in Marketing
Marketing technology, or martech, is a crowded business area, having more than 8,000 product offerings. Between 2011 and 2020, product development in the space reached 5,233%.  Martech happens to penetrate just about every other sector. Now, it's an environment of platforms that is including digital asset management (DAM) and product information management (PIM). As well as content management systems (CMS) and marketing resource management (MRM). There are personalization, marketing automation, and CRM solutions.
Subsequently, in terms of SEO, there are analytics tools and web crawlers, as well as rank trackers and AI-based optimization grading tools.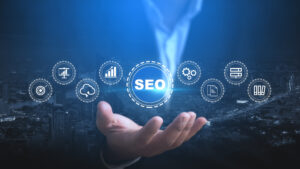 The list of martech options goes on and on, and these software solutions are having a positive influence.
Examples of Digital Transformation in Transportation
Tesla is pushing several car manufacturers into a new type of competition. With the increasing concerns over global warming and the world's overreliance on oil. The automotive industry is recently embracing a move towards electrification and autonomous driving.
Taking it a step further, technologies such as Smart Eye are delivering AI-based driver monitoring systems and automotive interior sensing solutions. These technologies are making driving far safer by detecting when drivers are distracted, falling asleep, or otherwise putting their passengers and themselves in danger.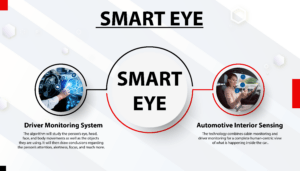 Also read: The Importance of Digital Transformation for the Industry
Examples of Digital Transformation in Healthcare
The healthcare industry usually lags in digitization on the patient side however, we are starting to observe digital innovation initiatives like real-time health monitoring, e-portals for patients, and virtual health visits. The digital transformation in healthcare is improving the patient-institution relationship. And hence leading to improving health outcomes and engagement in healthcare decisions.
Where much of the healthcare industry is suffering, particularly certain niches such as senior living, is in managing and handling prospective patients that come in as well as the proper documentation that goes along with it. For example, in digital transformation examples for business in healthcare, there are several digital marketing departments in senior care relying on referrals as many of their patients are coming from hospitals or other care facilities.
Examples of Digital Transformation in Logistics
Another revolutionizing digital transformation examples in business is in the logistics industry. The rapid technological innovation is fundamentally altering the competitive dynamics of the logistics service industry and compelling incumbent logistics service providers (LSPs) to digitalize. Leaders in the logistics industry like FedEx, DHL Supply Chain, UPS, Samsara, etc., are already taking steps toward building, implementing and diffusing different technologies. These are helping companies in becoming more digitally mature.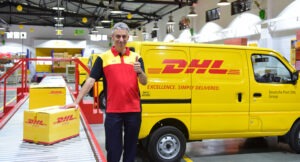 Digital transformation in the logistics industry is helping logistics companies in tracking the delivery of goods in real time, enabling them to identify areas for improvement and boost productivity. In addition, it is allowing them to optimize travel routes, account for expected delays, and flag deliveries in the event of a vehicle loss or accident. It can be enabled with features like route/fuel optimization, preventive maintenance, fleet tracking, and geofencing that can vividly cut down costs and time. All while increasing utilization rates. Analytical reports, analyzing metrics, and measuring key performance indicators (KPIs) are helping in maximizing revenues and productivity and enhancing process effectiveness. LSPs offering fleet management software will be considered good if they use the services of analytics metrics, fleet security, maintenance reports, and driver details. In order to monitor the fleet and ensure their longevity and safe driving.
Examples of Digital Transformation in Education
Since the outburst of the COVID-19 pandemic all over the globe, more than 1.5 billion students have switched to the online mode of education. To make the learning process smooth and easier for each and every student, educational institutions and governments are developing digital transformation plans. They are also implementing necessary and relevant changes.
Education is considered one of the world's single largest industries, making up more than 6% of the GDP. It is anticipated that global spending will nearly double in the coming five years, hence, reaching $404 billion by 2025.
Digital transformation in the education industry is helping to improve the learning experience for both students and teachers. As well as other people involved in the process. Such transformation is focusing on improving engagement and accessibility through interactive and customizable learning. As a consequence, online education will be getting cheaper, more comprehensive, and more inclusive.
Digital transformation examples for business in the education industry will be innovative. Some of the opportunities that digital transformation in higher education allows are interactive videos or tests, micro-lessons, and even games or AI-based learning methods. All these options are helping students to get more involved in the process and interact with respective tasks or elements. Also, people having disabilities will get an education with no barriers or difficulties. All thanks to text-to-speech or colorblind-friendly visualization, for example
Arizona State University has allowed Amazon Echo Dot devices in their campus and student resident halls as voice assistants. This will be providing information about the university for students, faculty, staff, and alumni.
EdTech company Carnegie Learning is providing technology solutions to K-12 schools. Their math learning platform MATHia is using artificial intelligence to act as a personal tutor. Moreover, it adjusts itself continually to each student and delivers a personalized learning experience.
Conclusion
The digital transformation examples above show consistent mitigation of friction in operations, training, customer engagement, product development, marketing, sales, and support. Generally, this is accomplished by streamlining clunky, eliminating waste, and disjointed processes, and making new connections fast.
Learn from these examples for transforming your business performance.
If you feel your company is in need of digital transformation, you will require a well-developed strategy and an experienced team. We offer digital transformation services in various industries. So, if you want prompt and effective results, contact us now!
FAQs
What are some real examples of digital transformation?
Getting artificial intelligence into your service organization is a leading example of the power of digital transformation. AI-powered chatbots that solve simple customer inquiries serve as a welcoming presence on your website. Hence, mitigating the time customers have to wait to reach an agent.
What are business transformation examples?
Business transformation initiatives can include mergers and acquisitions, staff changes, supply chain reorganization, outsourcing, and new business models. In practice, the business transformation process usually involves creating major changes to an organization's people, processes, and technology.