The IT department is at the epicenter of the building and maintenance of communications networks for small and large businesses. Not many companies, big or small, could survive without having a good IT department. The role of information technology in business is making them imperative to a business's day-to-day existence. From sending an email, to changing a password, accessing databases, and everything in between IT are there to facilitate every step of the way. Ultimately, IT in business is helping the business to be more efficient and productive. It has a number of different roles including but not limited to:
Facilitating the company to be more productive, time = money.
Optimizing business performance
Troubleshooting and safeguarding data
Saving the business cost
Enhancing customer experience, satisfaction, and communication
Streamlining various communication systems
Improving managerial decision-making
Helping the business expand internationally
Offering staff access to company information
In this article, we are going to look at the role of information technology in business. As well as what is making this department so important to have a safe business.
Also read: The Importance of Information Technology in Business Today
Safeguarding Data and Information
The definitive goal of safeguarding is protecting data from compromise. The IT department will be ensuring data safeguarding. Hence, implying industry-standard safeguards are in place. That too is company-wide for protecting against the destruction, loss, misuse, unauthorized disclosure, or alteration of company-related data or employee confidential information. The role of information technology is also to ensure they are abiding by data-protection laws by safeguarding important information from corruption, compromise, or loss.
Simultaneously, instances of data breaches could be hackers stealing information, or misusing/sharing personal data in regard to the company of the employees.
Troubleshooting of Problems
On the other hand, troubleshooting is referring to problem-solving in the digital world. Moreover, troubleshooting can be applied to a number of different things such as the repairing of failed digital products or processes on a PC or a system. Therefore, when a problem is troubleshot, a systematic and logical search is carried out for the source of the problem with the goal to solve it. Hence, making the product or process fully operational again. Furthermore, Troubleshooting is also used to find the symptoms when something is wrong.
A competent IT department in any business environment is the first port of call when it comes to an issue or problem with a computer. For example, if an employee has locked themselves out of their computer, forgotten a password, or cannot get access to a particular drive. The role of information technology comes into play in fixing the issue.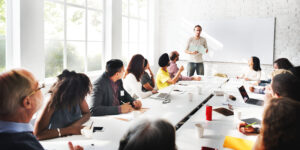 The Management of Cloud-Based Solutions
So what exactly is a cloud-based solution? The cloud-based solution is an on-demand service for almost anything and everything you can 'save' such as computer network information, storage, applications, or resources accessed via the internet. As well as through an external provider's shared cloud ( servers which are accessed over the Internet,) computing infrastructure. Large and small businesses, right from the local candle shop to industry giants such as Microsoft and Google are using cloud-based solutions. For keeping control of their digital or physical offices and employees globally.
Analyzing Data
Information technology is able to analyze specific data. It is helping in the planning of the business journey accordingly using the trends and information presented in data. The role of information technology in business can also efficiently equip businesses with plentiful tools. This can facilitate solving challenging business obstacles. Also, it will help in planning the future growth of the company. In this day and age, digital marketing is something that businesses can't live without. As we are moving to the online world and users have access to the net 24/7 from their smartphone devices. The internet is providing a digital marketing platform that allows businesses to promote their products or services to the global market, all of whom can see products sitting in the comfort of their own remote office or home.
Also read: Role of Information Technology in Industry 4.0
To Conclude
Did you realize the role of information technology in business?
It's probably harmless to say, that it is impossible to achieve long-term business success without harboring the leverages of information technology in the heavily digital age we live in. The IT department has its fingers in a number of pies. And managing everything from improving communications (internal and external), to managing inventories, decision-making, databases, and management as well as employee/ customer relationship management.
Get in touch with us if you are planning to elevate your business environment!
FAQs
What is the role of information technology in business process management?
In its various manifestations, IT is helping to process data, gather information, store collected materials, accumulate knowledge, and expedites communication. In fact, it is playing a role in many, if not most, of the everyday operations of today's business era.
How information technology is impacting business?
Information Technology is helping businesses to settle intricate issues with the right to make the most effective business-related decision, you require to consider only two factors- delicacy and speed. All the companies need to do marketing research, as it may facilitate them to provide the perfect resolution.
Read Also: